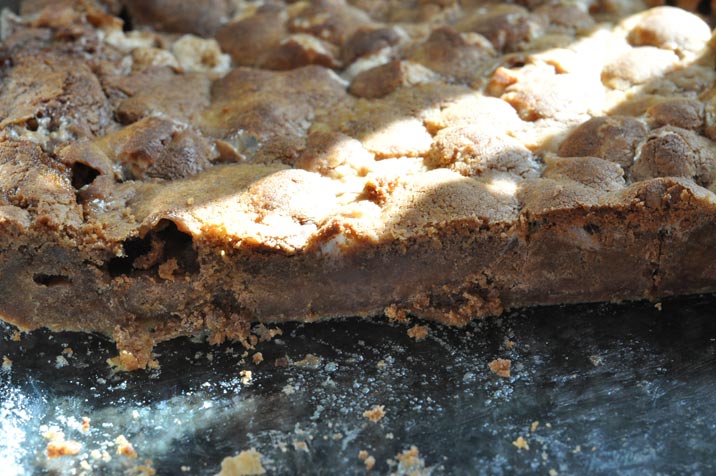 I'm trying to be one of those really great moms of college students that send their child care packages every week. I'm not really succeeding, but I 'm doing the best I can.  I'm always on the look out now for cute cards and cheap doo-dads to send Miss G. I'm also trying to get home baked goods to her every once and a while. I remember being across the country at college and my sister, Julie, sending me a big pan of chocolate chip bar cookies. Those were the days before express mail and they still tasted good and moist after they got to me via the pony express. It was heaven to recieve that delicious package from home.
I believe bar cookies are the best option for your college care package needs and Nordy Bars fit the bill perfectly. Nordy bars originated at Nordstrom, but I haven't seen them there for awhile now. Blonde butterscotchy bars filled with little marshmallows, chocolate chips and pecans; they are a sugar lovers delight. Hopefully, a homesick college freshman's, too……
Nordstrom Nordy Bars
Ingredients:
1/2 cup (1 stick)

butter

12 oz. package

butterscotch chips

1/2 cup

brown sugar, firmly packed

2

eggs, slightly beaten

1 1/2 cup

flour

2 t.

baking powder

1/2 t.

salt

2 t.

vanilla

12 oz. package

chocolate chips

2 cups

miniature marshmallows

1 cup

pecans, chopped (optional for you nut allergy types)
Cooking Directions:
In a medium saucepan, melt the butter; add butterscotch chips and brown sugar. Stir until melted.
Remove pan from heat and stir in eggs, flour, baking powder and salt. Stir in vanilla.
Cool thoroughly- really do this or the chocolate chips will melt prematurely!
When really cool, stir in chocolate chips, marshmallows and pecans.
Spread in greased 9×13 baking pan and bake at 350 degrees for 25 minutes.
Yum!