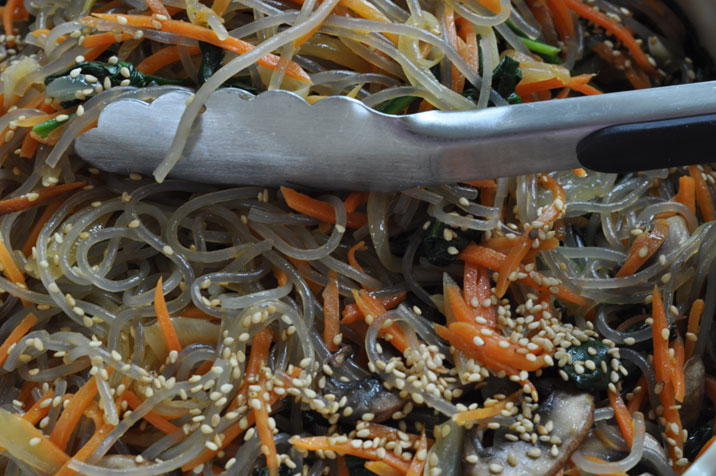 Well, our cups tennis season just ended for the year, so it was time to celebrate! Naturally, I volunteered to host as I knew it would make me clean the house. It was good to get the cobwebs down and have a clean floor and get rid of the layer of dust over everything; if only I did all of those mundane household tasks on a regular basis… Well, it's probably a good thing I don't; I'm building my children's immune systems…..Anyhow, it is my experience that tennis ladies like to eat and they can cook! We had some wonderful appetizers, including Jill's Mediterranean Puff Pastry Pinwheels that I'm still trying to track down the recipe for,  and my friend, Mee, brought a supremely tasty Korean Salad, Japchae aka Korean Sweet Potato Noodles served at room temperature. She did the vegetarian version, but she said it is good with beef or chicken added, too. She also likes to reheat them the next day in a little sesame oil. If you're wondering if the noodles taste like sweet potatoes – they don't – they're just a nice chewy noodle and gluten free to boot. The Wilson Children devoured the leftovers and were begging for more. Thank you, Mee!
Japchae AKA Sweet Potato Noodles
Ingredients:
1 pound

dried Korean sweet potato noodles

8 oz. (4-5 cups)

spinach, rinsed and trimmed

2 T. , plus more as needed

vegetable oil

6

fresh shitake mushrooms, stems trimmed and thinly sliced (use plain old brown ones if you shitake are unavailable)

1 medium

yellow onion, thinly sliced

2 medium

carrots, peeled and julienned

3

green onions, white and green parts, cut into 1 inch lengths

2 cloves

garlic, minced

1/3 cup

soy sauce

3 T.

brown sugar

1 T. plus a little for drizzling in step 1.

sesame oil

1 T.

toasted sesame seeds
Cooking Directions:
Cook the sweeet potato noodles in a pot of salted boiling water for 4 to 5 minutes.Drain in a colander and rinse under cold water. Use scissors to cut the noodles into 6-8 inch lengths. Drizzle with a little sesame oil to keep from sticking and toss to coat.
Heat the vegetable oil in a large wok or frying pan over medium high heat for a minute. Add the mushrooms, onion, carrots, green onions and garlic and stir and cook until the onion has softened. Add the spinach, tossing to combine. Cook for 1 minutes.
Reduce the heat to medium and toss in the noodles. Add the soy saucee, brown sugar and sesame oil. Stir everything for 2-4 minutes, until the everything is thoroughly heated. Add more oil if the noodles stick to the bottom of the wok. Taste and season with salt and pepper as needed.
Transfer to a serving dish and sprinkle with sesame seeds. Serve immediately or at room temperature.
Mee likes to reheat the next day in a heated skillet with sesame oil. Heat until the noodles are supple and hot.