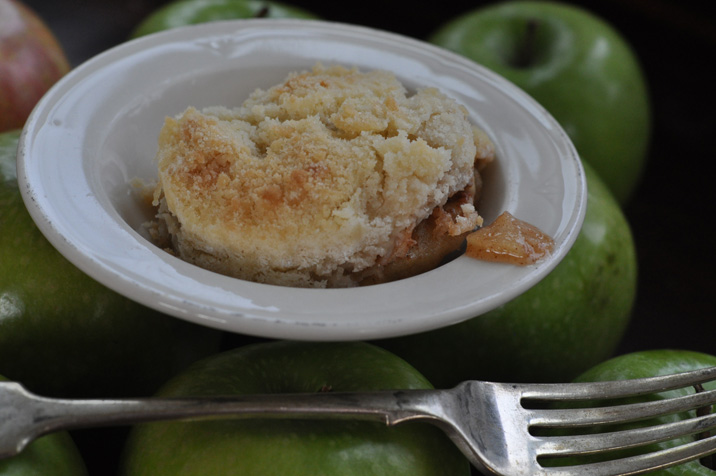 So, I have found the perfect apple crisp recipe! My favorite apple crisp for years has only been a distant memory. A memory, of all things, the apple crisp served with hot lunch at school when I was a kid. It had a perfect crispy, sugary topping atop the succulent apples.  My perfect apple crisp does not have any of those blasphemous oats in it.  I know many people love an apple crisp with an oatmeal topping and it can make a good apple crisp, but not a divine one. So, my search went on for years….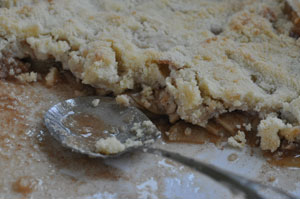 Imagine my delight when my friend, Paige, came to a gathering armed with her fabulous apple crisp. She'd had a little run in about apple crisp with her mother earlier in the day. She'd told her mom she was going to try an apple crisp recipe by Paula Deen made with oatmeal.  Her mother, wise as she is, told her "Why would you want to make Paula Deen's recipe when our family makes the best apple crisp?" Paige succumbed to her mother's wisdom and made the best apple crisp ever, to my ever grateful delight.  I have doubled her recipe, because one 9×9 pan is just not enough. Also, Paige's mother says you must slice the apples very thin so they cook really well. Obey her.
The Divinest Apple Crisp
Minugh Family secret recipe
Ingredients:
8

peeled and thinly sliced apples (Paige uses half granny smiths and half golden delicious)

1 1/2 cup/ 2 cups

sugar

4 t.

cinnamon

2 cups

flour

1 cup (2 sticks)

butter
Cooking Directions:
Combine apples, 1 1/2 cup sugar and cinnamon. Arrange in a 9×13 baking pan.
Blend together (I use a pastry blender, but you can use your hands) the 2 cups sugar, flour and butter until crumbly. Sprinkle over the apples.
Bake at 375 degrees for 30-40 minutes.
Paige says to serve it with vanilla ice cream and enjoy!