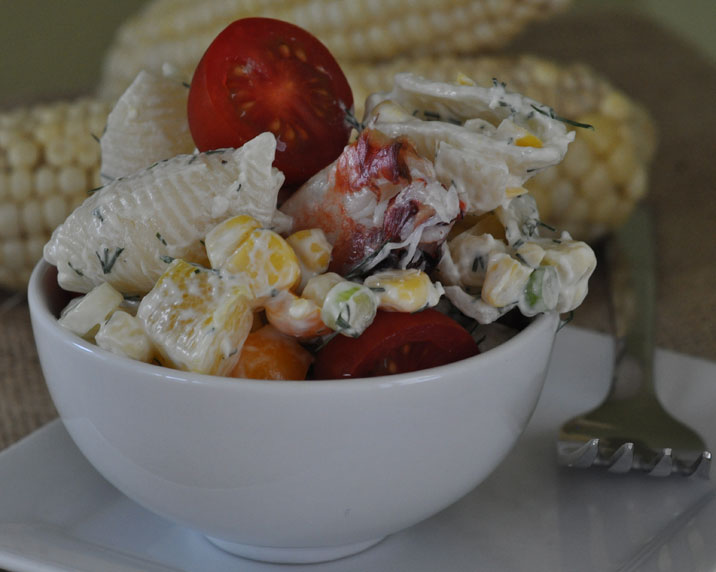 I have just been on a potluck salad kick lately. When I say "potluck" salad I'm really meaning a huge, hearty, fairly easy to make salad to feed 37 that can be made the night before. Is there an official name for that type of salad?  I gave a baby shower luncheon for our dear friend Suzanne last month and tried out these new recipes. They were all very blog-worthy, especially the summer crab and shells salad. I'm going to make it again for the Fourth of July. This crab salad is based on one of Ina's lobster salads in her Barefoot Contessa – How Easy is That cookbook. The second salad I made, the Green Goddess Chicken Pasta Salad is essentially, chunks of chicken and some other tasty tidbits tossed with glorious green goddess dressing. I liked it a lot, but unfortunately, there is no picture posted because it wasn't a photogenic salad, but it had  great personality! The pea salad  is one I found in a British magazine, delicious – it's quite a refreshing salad with all of the mint in it. Enjoy!
Delicious Days of Summer Crab and Shells Salad
adapted from a recipe by Ina Garten
Ingredients:
1 pound

small pasta shells

4 ears (about 3 cups)

fresh corn, shucked

6

scallions, white and green parts, thinly sliced

1 or 2

yellow or orange bell pepper, seeded and diced small

1 pint

cherry tomatoes, halved

1 pound

cooked fresh dungeness or king crab (or lobster)

3/4 cup

best foods mayonnaise

1/2 cup

sour cream

1/4 cup

fresh squeezed lemon juice (2 lemons)

3/4 cup

fresh minced dill

fresh

ground pepper
Cooking Directions:
Cook pasta unti al dente. Add the whole corn cobs to the boiling pasta for the last two minutes of the pasta\\\'s cooking. I really hope that made sense. Remove the corn & drain the pasta into a large bowl.
Cut corn off of cob when it is cool enough to handle and add to the pasta along with the scallions, pepper, tomatoes and crab. Toss gently.
Whisk together mayo, sour cream, lemon juice, 2 t. salt, and 1/2 t. pepper in a small bowl until smooth.
Mix mayo mixture into pasta mixture. Stir in the dill, up to 4 t. salt (Ina calls for 4, but it is a little much for me – so taste as you go) & grind some pepper in.
Chill up to 6 hours. I made the day before (without the crab) & added the crab a little bit before serving. Check the seasonings and serve cold or at room temp.
Green Goddess Chicken Pasta Salad
Ingredients:
1 pound

pasta, penne or corkscrew

1 pound

fresh mozzarella, cubed

2

red bell peppers, chopped up

1 cup

sliced black olives

dressing

********************

1 1/2 cup

fresh french tarragon leaves

1 1/2 cup

snipped fresh chives

1 1 /2 cup

fresh flat leaf parsley

12

anchovy fillets

1/2 cup

fresh squeezed lemon juice (around 4 lemons)

1/2-1 t.

salt

3/4 cup

e.v.olive oil

3/4 cup

best foods mayonnaise

3/4 cup

sour cream

fresh

ground pepper to taste

4

chicken breasts, cooked, cut into 3/4 inch chunks
Cooking Directions:
Okay, so remember the chicken tastes so much better if it is roasted with the skin on rather than boiled. So, hopefully your breasts have skin on them, put a little olive oil on top & generously salt and pepper them. Bake at 400 degrees for 30-40 minutes if they are boneless and up to an hour if the bone is still in. Cool & cut into 3/4 inch cubes.
Cool the pasta al dente per the directions in salted, oiled water.
In a large bowl combine the pasta, chicken, cheese, olives, and peppers.
Puree the herbs, anchovies, lemon juice and salt in a food processor. With the machine running add the oil in a slow stream. Add the mayo and sourcream and pepper and process until smooth. Adjust seasonings as necessary. This should make more than enough dressing for the salad.
Add as much dressing as you desire to the pasta mixture.
Mint and Pea Salad
from delicious magazine
Ingredients:
16 oz

frozen peas

16 oz

of sugar snap peas and/or snow peas

1 cup

baby spinach leaves

1 bunch

mint, leaves picked and coarsely chopped

1

red onion, thinly sliced

3/8

extra virgin olive oil

1 T.

dijon mustard

2 T.

red wine vinegar

1 clove

garlic, minced

1 t.

sugar

1/2 t.- 1 t.

salt
Cooking Directions:
Cook the peas in boiling salted water for 2-3 minutes. Refresh in cool water and drain.
Whisk together the oil, mustard, vinegar, garlic, sugar and salt.
Toss together all of the peas, spinach, mint and onion with the dressing when ready to serve.