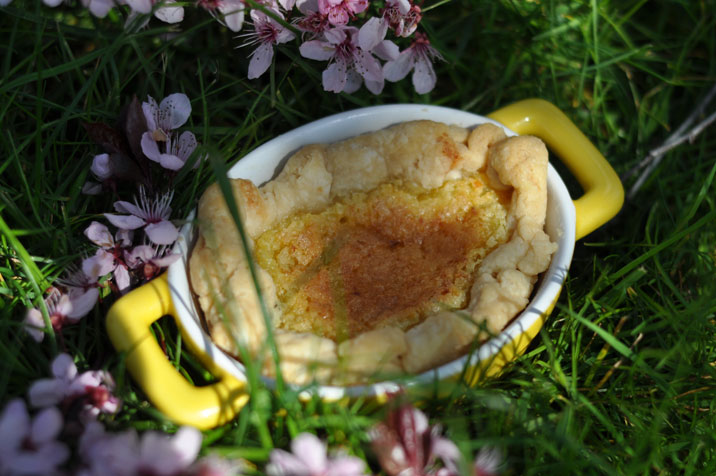 I love anything lemon. Springtime begs for lemons and Easter demands some sort of lemon dessert, so I decided to make a lemon chess pie. I am getting a lot of use out of my Desserts – Favorite Recipes of Home Economic Teachers, only slightly revised from the 1965 version. I love that the lemon chess pie I made was the tried and true recipe of Mrs. Martha Cervenka of Granger High School (Texas), Mrs. Leon Potts of Kossuth High School (Mississippi), Mrs. Betty Addison of Lipan High School (Texas), Mrs. Delma Walden of Tompkinsville, Kentucky and Mrs. Katye R. Pugh of Treadwell High School (Tennessee). This ia a good lemony pie, but I think I am more partial to a lemon meringue.
Lemon Chess Pie
Adapted from Desserts- Favorite recipes of home economics teachers
Ingredients:
2 cups

sugar

1 T.

flour

1 T.

corn meal

4

eggs

1/4 cup

melted butter

1/2 cup

milk

2-4 T.

lemon rind, grated

1/4 cup

lemon juice

1

unbaked pie shell
Cooking Directions:
Combine sugar, flour and cornmeal in a large bowl.
Add remaining ingredients and beat until smooth and blended.
Pour into an unbaked pie shell and bake at 350 degrees for 35-40 minutes or until the top is golden brown.