This recipe came to me via my friend, Marita.  The lemon taste in this pie is tempered with the addition of the sour cream.  I can't really tell you if I preferred this or the mile high lemon pie.  They are both so good in their own way.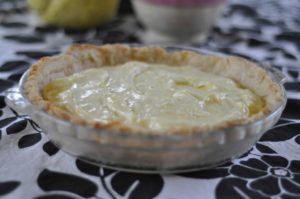 Lemon Sour Cream Pie
Ingredients:
1 cup

sugar

3 T.

cornstarch

1 T.

lemon peel, grated

1/4 cup

butter

1/4 cup

lemon juice

1 cup

milk

3

egg yolks, slightly beaten

1 cup

sour cream

1 or 2 cups

whipping cream
Cooking Directions:
Combine the sugar, cornstarch, lemon peel, butter, lemon juice, milk and egg yolks and cook over medium heat, stirring constantly, until thick. Cover and cool.
Fold in sour cream.
Pour into prebaked pie shell. Chill at least 2 hours.
Whip whipping cream with 1 or 2 t. of sugar and spread over pie.