For Easter this year, I decided to just have pies for dessert.  I wanted to try two different lemon pies – my Mom's good old mile high lemon pie, and a lemon sour cream by my friend, Marita.  Lucky for me they are the same page of the Presbyterian Church cookbook.  Also, I wanted to fool around with the chocolate pudding pie and perhaps sweeten it up a little into a milk chocolate pudding pie.  And, last but not least, to round everything out,  a strawberry rhubarb pie sounded quite spring-y.
First off, I made my Mom's mile high lemon pie,  only for me it was more like a quarter-mile high lemon pie.  It still tasted good, though.  My Mom has a couple of mile high lemon pie recipes out there and one calls for gelatin and one doesn't.  I made the one that doesn't, but I will try the one with gelatin one day.  I'm thinking I might have better luck height-wise  with that one as the gelatin probably stiffens everything up structurally and helps that pie get a mile high….
Anyways, this is a good pie.  My Easter guests were pretty much split down the middle on whether they preferred it or the lemon sour cream.  Although the lemon sour cream pie contained more lemon juice, the consensus was that the mile high pie was more lemony.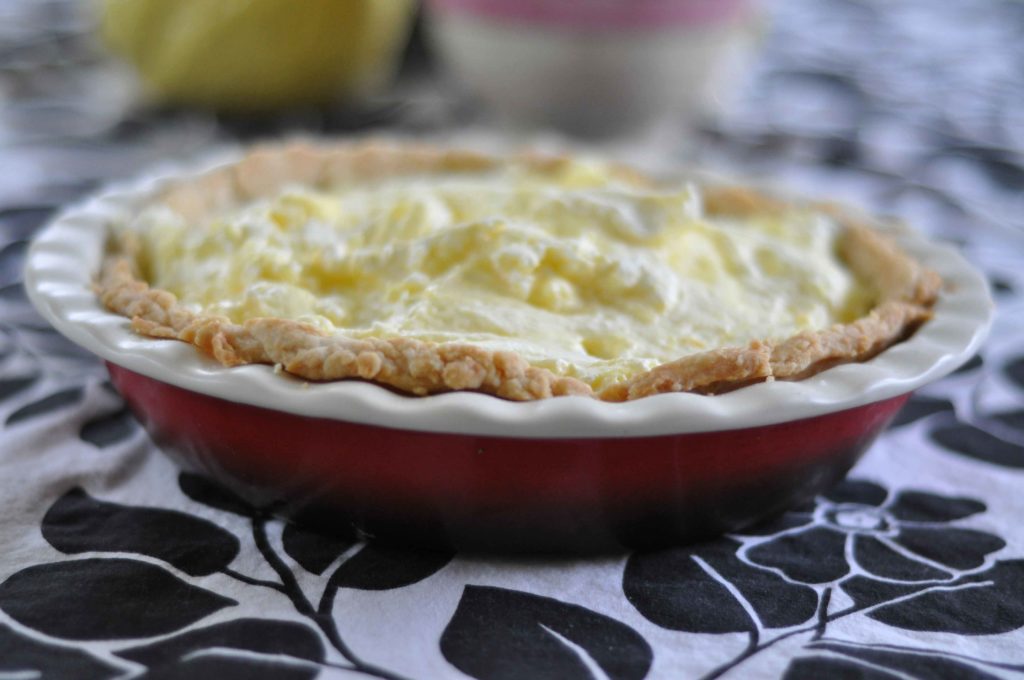 Mile High Lemon Pie
Ingredients:
4

eggs, separated

1/2 c.

sugar

4 T.

lemon juice

1 t.

lemon peel, grated

pinch of

salt

1 cup

whipping cream, whipped

1

prebaked pie shell
Cooking Directions:
Beat 4 egg yolks with 1 egg white together; add sugar, lemon juice, lemon peel and salt.
Cook for 5 minues in a double boiler or until mixture is thick. Cool.
Beat remaining egg whites until stiff; gently fold into lemon mixture.
Gently fold whipped cream into lemon mixture.
Pour into prebaked 9 inch pie shell. Chill for at least 1 hour.