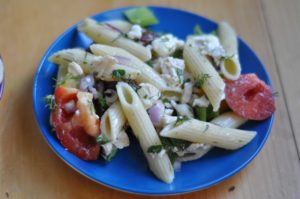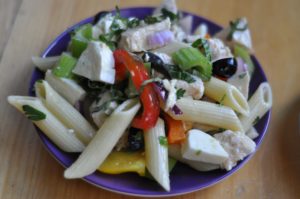 My sister-in-law, Laureen, is a fabulous cook.  Years ago, she gave me this recipe and it is my go-to recipe for whenever a hearty pasta salad is required.  Birthday party, church potluck, baby shower, funeral, royal wedding brunch- this salad has been there.  Everyone always loves it and you will know why when you try it.  I do have one variation of it for when I am feeding younger children.  My variation substitutes black olives, basil and fresh mozzarella for the kalamata olives, dill and feta.  Also, in a desperate hurry I will use an excellent bottled vinagrette instead of making one.
Chicken Ziti Pasta Salad
Ingredients:
1 pound

ziti pasta (or penne may be substituted)

2 large

chicken breasts (bone-in, skin-on)

1 1/4 cup

kalamata olives, chopped in half

6-8 oz.

feta cheese, chunkily chopped up (this is all me – Laureen doesn\'t put this in)

1/2

red onion, sliced and medium chopped

2-3 stalks

celery, chunkily chopped

1-2

red bell peppers, chopped (I sometimes add a yellow or orange for fun)

1/2 cup

fresh dill, chopped

2 T.

lemon juice, fresh

Vinairette:

3 T.

white wine vinegar

2 T.

mayonnaise (Best foods or Hellmans – yes, I am a total mayo snob here)

2 T.

good quality dijon mustard

2/3 cup

olive oil

salt and pepper to taste

For the kid friendly variation:

10-12 oz. fresh mozzarella instead of feta

1/2 cup chopped basil instead of dil

1 1/4 cup halved black olives instead of kalamata
Cooking Directions:
Grill or bake the chicken breasts. To bake – rub a little olive oil on them , and salt and pepper them. Bake at 350 degrees for about an hour. Trust me – skin on roasted breast meat is so much better than boiled skinless boneless chicken breasts! Cool and chop up into chunks and drizzle with lemon juice.
Boil the pasta al dente per the instructions. Cool.
Mix the vinaigrette. I make mine in a food processor by mixing together the vinegar, mayo and mustard & adding oil in a slow stream to emulsify it. Salt and pepper to taste.
Add the olives, cheese, chicken and vegetables to the pasta and mix. Add the vinaigrette and mix again.
Sprinkle the top with more dill.
Reader Interactions