Darrington Rhubarb Cream Pie was the other pie in my battle of the Rhubarb Custard Pies.  It's a hearty pie with a thick layer of custard on the bottom, a much more generous pie than the 1941 Lutheran Ladies Pie plus it has almond extract in it for an exotic touch. I love almond extract.  It was Coco's favorite and I enjoyed it a lot, too.  I didn't quite have enough rhubarb, so I supplemented with a cup of strawberries…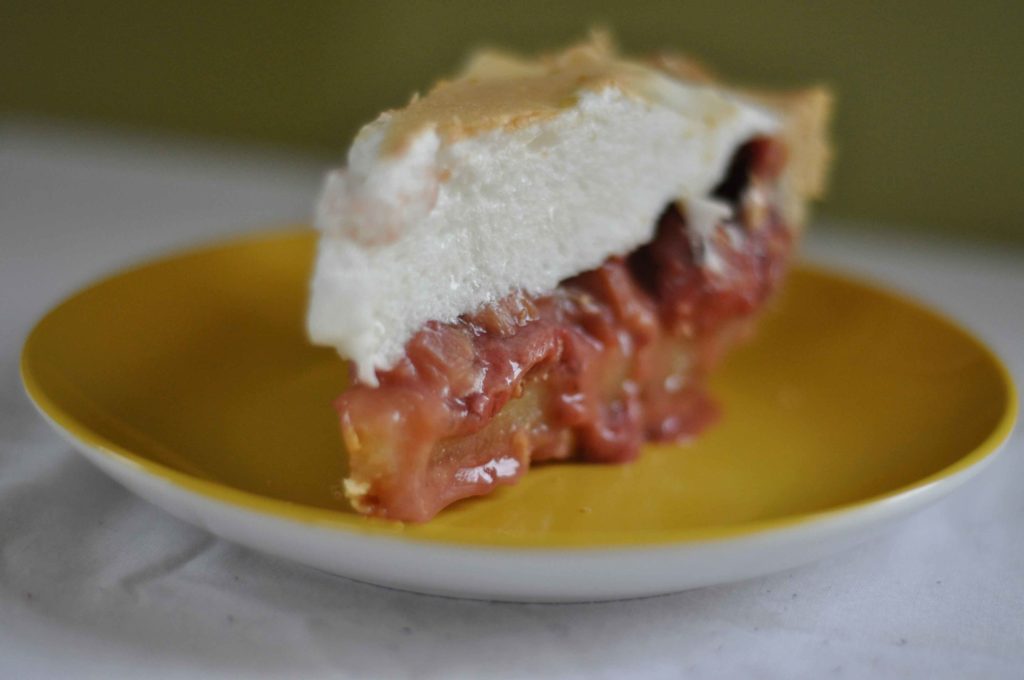 Darrington Rhubarb Cream Pie
Ingredients:
4 Cups

rhubarb, sliced and blanched

5 T.

flour

1 1/4 cup

sugar

1/8 t.

salt

3

eggs, divide whites and yolks

1/2 cup

milk

1/2 t.

almond extract

1

unbaked pie shell
Cooking Directions:
Put rhubarb in pie shell.
In bowl, combine the flour, sugar and salt. Add egg yolks, milk and almond extract whisking until thoroughly combined.
Pour over rhubarb and bake at 400 degrees for 10 minutes. Reduce temperature to 375 degrees and bake another 45 minutes or until rhubarb is cooked.
Make a meringue using the 3 egg whites and 6 T. of sugar. Spread over pie and brown in the oven.
Enjoy!