This last weekend was the battle of the strawberry pies at my house.  I had never made a strawberry pie before and I don't think I had even ever tasted a homemade one, either.  I have been missing out, big time!  What was the reason for this?  Strawberries are a big crop around here -I spent my 5th and 6th grade summers picking them, so I know this!  My Mom was a big pie maker – so why did she never make strawberry pie?  In search of answers to this major dilemma, I called my Mom.  Her excuse was that her family was strawberry shortcake people and she never had strawberry pie growing up.  I am glad this generational cycle of strawberry pie abuse is stopping with my family and I think they are pretty glad, also.  Strawberry pie is to die for.
So, I had the strawberry pie cookoff with my self.  Both pies called for fresh strawberries in a prebaked pie shell.  I adapted the first recipe for Pure Strawberry Pie (Pie #1) from the McCall, Idaho "Cookin' at the Cabin" cookbook.  This pie made a glaze with mashed strawberries, sugar and cornstarch whilst Fresh Glazed Strawberry Pie (Pie #2) used the secret ingredient of strawberry jello in the glaze.  I found the recipe for Fresh Glazed Strawberry Pie in the Women's Society Tokyo Union Church cookbook.
As you can imagine, Pie # 2, with the addition of jello was a bit sweeter and redder than Pie #1. So,  I thought for sure, Pie #2 would win my children's hearts.  I asked Coco which she preferred and right off, she blurted, "Pie #2" and then a few seconds later, "Uuuh, Pie #1".  The pies were both totally awesome, but in my opinion Pure Strawberry Pie wins because it was the easiest to make and the "purest".  Judge for your self!
Pure Strawberry Pie
Ingredients:
2 lbs.

fresh strawberries, washed and hulled, half of them cut in half

1 cup/ 1 T.

sugar

4 T.

cornstarch

1 cup

whipping cream

1

prebaked pie shell
Cooking Directions:
Line the pie crust with about half of the berries with the cut side down on the crust.
Mash remaining berries with sugar and cornstarch. Cook, stirring constantly over medium heat until mixture boils, thickens and becomes clear. Cool.
Whip whipping cream with 1 T. of sugar until stiff peaks form.
Pour mashed berry mixture over uncooked berries and top with whipped cream.
Serve cold.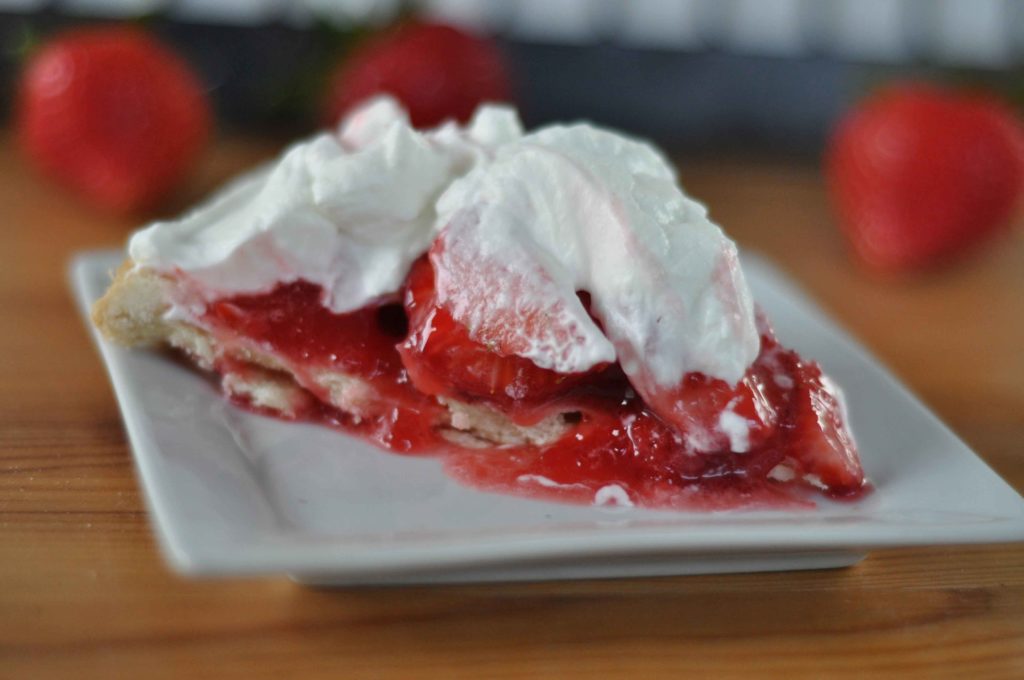 Fresh Glazed Strawberry Pie
Ingredients:
2 lbs.

fresh strawberries, washed hulled and cut into pieces

1 cup/ 1 T.

sugar

1 cup

water

4 T.

cornstarch

1 small package

strawberry jello

1

prebaked pie shell

1 cup

whipping cream
Cooking Directions:
Combine sugar, water and cornstarch and cook until glossy. Remove from heat and add jello.
Add strawberries and put into pie shell.
Refrigerate at least 2 hours.
Whip the cream until stiff peaks form
Top the pie with the whipped cream.