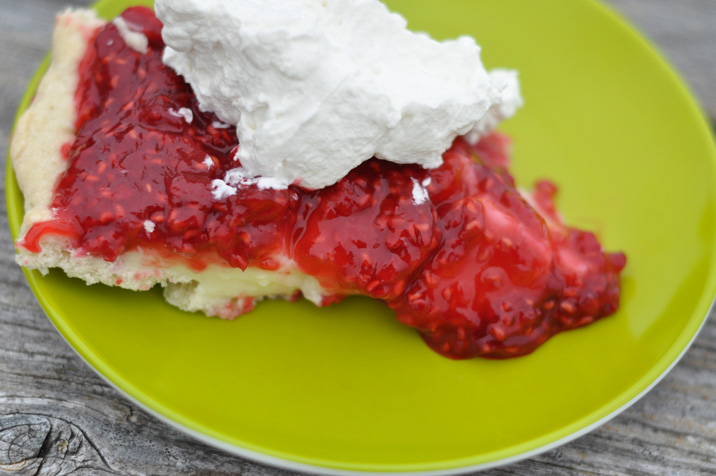 Raspberries have finally ripened this week, so I picked up a flat at a u-pick farm to make a couple of pies.  I adore raspberries. I think I could eat a pint of raspberries every day for the rest of my life and feel complete. Okay – slight exaggeration. But, I don't feel that way about all of the other berries.  I love them all, but I don't adore them. Raspberries are special. Anyways, the pies were a hit. I made this raspberry cream pie and  plain double crust raspberry pie and the votes were split between the two. I couldn't pick a winner either -see if you can.
Raspberry Cream Pie
Ingredients:
1 prebaked

pie shell

2/3 cup/ 1 cup

sugar

3 T./ 3 T.

corn starch

1/2 t.

salt

3 cups

milk

3

egg yolks, slightly beaten

1 T.

butter

1 1/2 t.

vanilla

5 cups

fresh raspberries

1-2 cups

whipping cream
Cooking Directions:
Mix 2/3 cup sugar, 3 T. corn starch and salt in a sauce pan. Gradually pour in milk while stirring over medium heat. Mixture will thicken and cook one minute past this point. Remove from heat.
Add some hot mixture into yolks and mix in. Mix yolk mixture back into sauce pan and cook for one more minute, stirring constantly.
Add butter and vanilla.
Pour into pie shell and cool.
Mix raspberries, 1 cup sugar and 3 T.cornstarch over medium heat until mixture thickens. Cool and spread over cream filling. Chill for a couple of hours.
Beat whipping cream with 1-2 T. sugar and 1 t. vanilla until stiff peaks form.
Serve pie with whipped cream.
Yum!