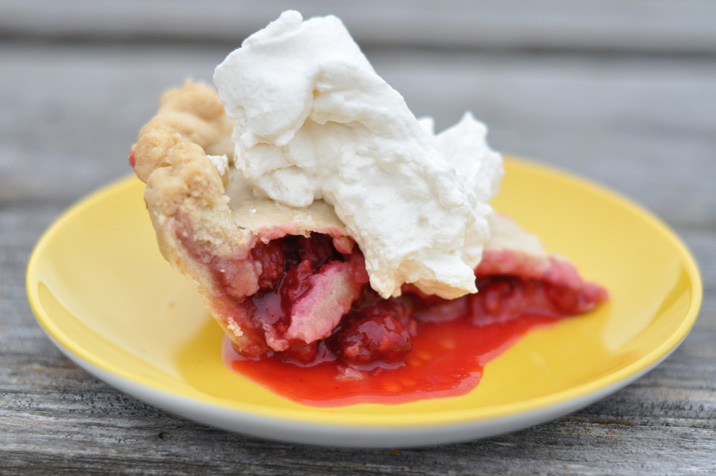 The other raspberry pie I made last week was a plain old double crust raspberry pie.  It was really good, but a bit on the runny side. I only thickened with a 1/4 cup of flour and it wasn't enough. The main thing I struggle with in my fruit pie making is runniness. I like a firmly congealed pie and I don't always get one. My friend, Lynn, uses a belt and suspenders method in her fight against runny pies.  If she thinks a pie is going to be too juicy she will use 3 tablespoons of flour, 3 tablespoons of  cornstarch and 3 tablespoons of tapioca to combat the enemy.  I am going to do it her way with my next fresh fruit pie!
Plain Old Raspberry Pie
Ingredients:
1 double crust worth

of pie dough

5 cups

fresh raspberries

1 cup

sugar

1/4 cup

flour

1/4 cup

corn starch (if needed to fight juiciness)

1 T.

quick cooking tapioca( if needed to fight juiciness)

2 T.

butter, cut into small chunks
Cooking Directions:
Line a pie pan with rolled out pie crust.
Mix together raspberries, sugar, flour, (corn starch & tapioca if needed) and place in pie shell.
Dot the top with the butter.
Cover with the top crust and prick to vent.
Bake at 450 degrees for 10 minutes and then reduce oven to 350 degrees and bake for 35-40 more minutes.
Cool.
Yum!