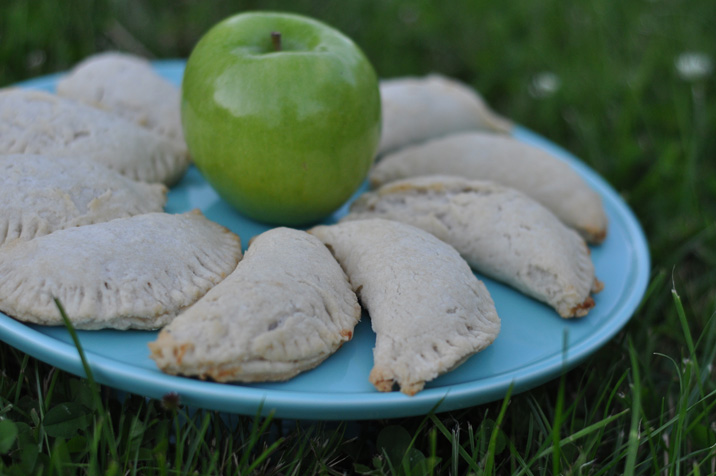 Don't you just love apple pie on the Fourth of July? I made these apple hand pies to celebrate this past Fourth. They were pretty darn good and cute to look at, too. They were a little more labor intensive to make than your average pie, but not much more and they transported really well.  Perfect picnic fare! This is what I did:
Apple Hand Pies
Ingredients:
1 recipe

of pie dough

4-5

granny smith apples

3/4 cup

sugar

1 T.

cinnamon

1 T.

cornstarch if needed
Cooking Directions:
Cook apples, sugar and cinnamon in a saucepan over medium heat for 5 minutes.
Reduce heat and continue to cook until apples are tender but not applesauce. Add cornstarch at the end of cooking if needed to thicken and cook until cornstarch thickens and clears. Chill for one hour.
Roll out pie crust and cut out 4 inch circles.
Spoon one rounded tablespoon of apple mixture onto half of each circle. Moisten edges with water and fold dough over to enclose apple filling. Crimp the edges with a fork dipped in flour.
Bake on a lightly greased baking sheet at 425 degrees for 12 minutes.
If you like a more juicy version, fry the pies in 1/2 inch of oil in a large skillet (350 degrees), 2 minutes each side.
The last thing – I think these would be great with some kind of glaze on them- maybe even a lemon glaze. If you come up with one let me know!