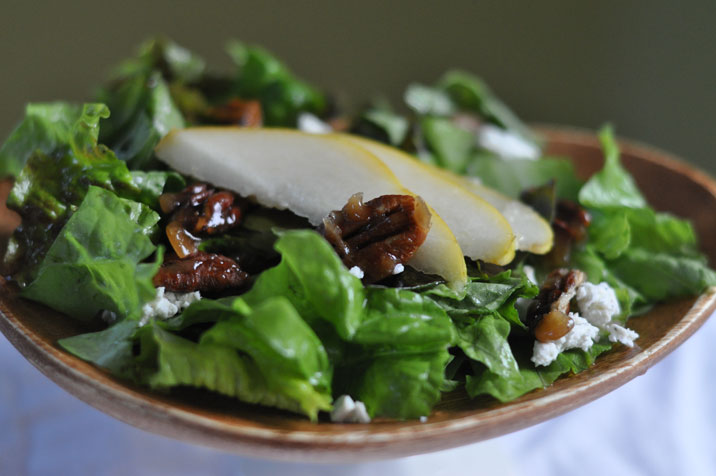 I made this salad for the first time last week for the tennis ladies and it seemed to be a hit, so I made it for the family a few days later. Mr. D. loved it so much he tried to make it for himself, candied pecans and all.  It is kind of weird (in a good way) that a 13 year old would like a salad so much…….Anyways, I hope your kids like it as much as Mr. D. I based this recipe on one I found in the Seattle Junior League Simply Classic Cookbook. The original called for red delicious apples and I substituted bartlett pears for them.  The first time I made it I used the original blue cheese that the recipe called for and the second time, out of blue cheese, I substituted goat cheese for magnificent results.
Candied Pecans (for Northwest Autumn Salad)
Ingredients:
1 1/2 cups

pecan halves

3/4 cup

sugar

2 T.

butter

1/4 t.

salt
Cooking Directions:
Stir together nuts, sugar, butter and salt in a heavy saucepan over medium heat, and cook, stirring constantly for 8 to 10 minutes or until sugar melts and turns golden brown.
Spread mixture in a single layer on lightly greased waxed paper. Cool and break into pieces.
Northwest Autumn Salad
Adapted from Simply Classic- The Junior League of Seattle
Ingredients:
1 head

red leaf lettuce, torn into bite sized pieces

1-2 heads

bibb lettuce, torn into bite sized pieces

2

bartlett pears, thinly slices and cut up

3/4 cup

glazed pecans, chopped -see recipe above

3/4 cup

blue cheese (or goat cheese), crumbled

1/2 cup

vegetable oil

1/4 cup

cider vinegar

2 T.

shallot, minced

1 T.

maple syrup

2 T.

lemon juice, freshly squeezed

1/4 t.

pepper

1/4 t.

salt
Cooking Directions:
For dressing: Mix together oil, vinegar, shallot, syrup,lemon juice, salt and pepper until emulsified.
Toss together lettuces, pears, pecans, cheese and dressing.
Serve immediately.