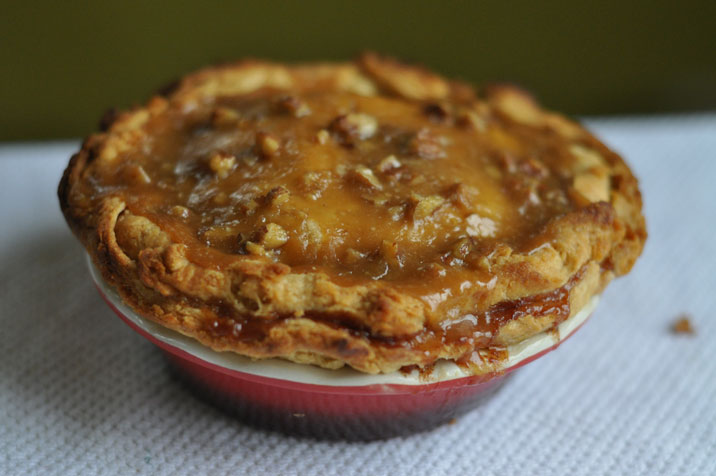 So, I'm still trying to step out of the plain old apple pie box. It's a hard thing to do. I am creature of habit. I listen to the same radio station day after day. Every Sunday, week after week,  after I drop the kids off at Sunday School you can find me playing hooky in the same Starbucks seat. Reading the same newspaper. Without fail, I am at cardio tennis every Thursday. Using the same Chrissie Evert grip I learned as a kid. I only use bisquick for our quick waffles and the only mayonnaise I have ever used is Best Foods. I had a yellow labrador as a kid and we have one now. I still bite my nails. Ughhh! Change is hard, especially when you like the status quo. Recently, I made this pie from a recipe I found in the Junior League of Jackson, Mississippi's Southern Sideboards Cookbook. It was a nice change….You end up with an apple pie topped with a nutty caramel sauce. This time of year I love caramel with apples. But, if I were to do make this pie again, I would make the apple pie, my usual way and then add the baked on caramel topping.
Harvest Apple Pie- Apple pie wth a Caramel Crust
Ingredients:
Pie Crust recipe

for 2 crust pie

6

granny smith apples, peeled cored and sliced

1 T.

cornstarch

1/2 t.

salt

3 T.

butter, melted

1 t.

cinnamon

3 T.

sugar

1/3 cup/ 3 T.

light corn syrup

1/2 cup

light brown sugar

1/4 cup

chopped nuts

2 T.

flour

2 T.

butter, softened
Cooking Directions:
Fill a pastry lined pie pan with the apples. Combine cornstarch, salt, 3 T. melted butter, cinnamon, sugar and 1/3 cup corn syrup and pour over the apples.
Cover with the top crust and bake at 425 degrees for 30-45 minutes. Remove from oven.
To make the caramel topping: combine brown sugar, 3 T. corn syrup, nuts, flour and butter and spread over the crust.
Return to oven for 10 minutes or until topping is bubbly.
Enjoy!