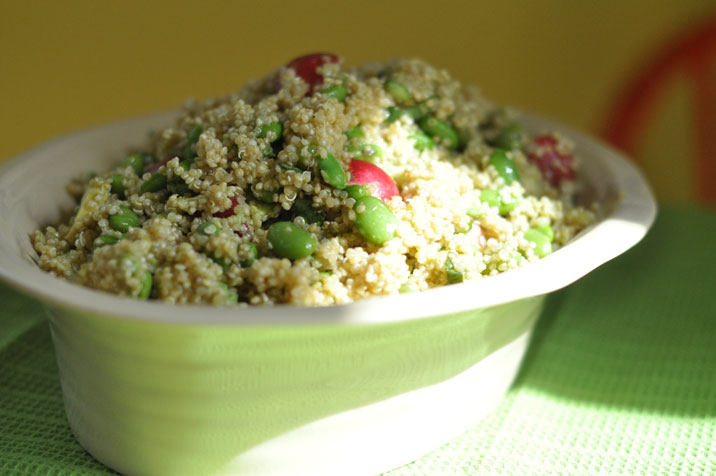 I really enjoyed the quinoa salad I made for Easter based on a recipe out of my Plenty cookbook by Yotam Ottolenghi. It was hearty, yet light and refreshing. The same can be said about my friend Lynn's recipe. If you've never had quinoa, you'll have to try it. People with gluten intolerances can enjoy quinoa, so it's a good substitute for a pasta salad when the circumstance demand it. The other thing I love about these salads are that they last for days even with the avocado in them. The avocado get coated in lemon juice and quinoa and didn't brown at all. Amazing! This salad was as fresh a few days later as the day I made it. These recipes are quite similar and I'll think you'll enjoy them both. One change I will make to the Avocado, Quinoa and Edamame salad the next time I makes it is to substitute the radishes with jicama. I think I would prefer the crisp, mellowness of the jicama over the inherant bite of the radish. Also, the original recipe call for fava beans…I found finding fava beans in Snohomish, Washington an impossible task so I substituted edamame, which worked wonderfully in my opinion. Give these recipes a try.
Lemon Avocado Quinoa Cilantro Chickpea Salad
By Fabulous Lynn
Ingredients:
1/2 cup

dry quinoa

2 cups

vegetable broth

1 can

garbanzo beans, drained and rinsed

1 cup

cherry tomatoes, cut in half

2

avocados, diced

2 cups

baby arugula (or spinach)

1 bunch

cilantro, chopped

1/4 cup

onion, chopped

2 small cloves

garlic, chopped

***for the dressing

*********

2

lemons juiced plus zest of one

2 t.

dijon mustard

2 t.

olive oile

1 t.

agave nectar

1/2 t.

cumin

dash of

salt and pepper
Cooking Directions:
Soak the quinoa in a pot of veggie for about 15 minutes then turn the heat to medium high and let it come to a boil. Simmer, stirring often for about 20-25 minutes just until the liquid absorbs, but is not completely dried out.
Cool.
Whisk together the dressing ingredients.
In a large bowl combine the quinoa, veggies and dressing.
Yum!
Avocado, Quinoa and Edamame Salad
Adapted from Plenty by Yotam Ottolenghi
Ingredients:
1 cup

quinoa

1 pound

shelled edamame or fava beans (fresh or frozen)

2

lemons, juices

2

ripe avocados, sliced thinly

2 cloves

garlic, crushed

2 bunches

radishes, halved lengthwise or 1 jicama, peeled and chopped up

1 cup

purple radish cress or purple basil, chiffonaded (I used basil)

1 T.

cumin

1/3 cup

olive oil

1/4 t.

chile flakes (I skipped this)

salt and pepper

to taste
Cooking Directions:
Cook the quinoa per the box instuctions. Cool and dry.
Toss the edamame into boiling water, bring back to a boil and then immediately drain and refresh with cold water.
Toss the avocados with the lemon juice. Add the quinoa, garlic, jicama (or radishes), half the cress (or basil), cumin, olive oil, chile flakes and salt and pepper. Toss gently.
Add more salt and pepper if needed.
Delicious!