We did it. We secured our rightful first place in line at the Farm Chicks Antiques Show in Spokane this year. Last year the nice ladies from Utah and Montana had their game on, but this year the ladies of Snohomish rose to the top! I wrote about Farm Chicks last year describing it as a huge fancy flea market where women run around in aprons (cute ones) and cowboy boots buying old kitchen scales, banged up lockers, vintage metal garden furniture, old panoramic photos, antlers, pictures of cows, silver cake stands and lots of other fancy junk for really good  prices.  I love it.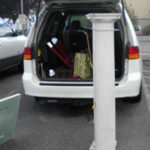 Farm Chicks is always the first weekend in June. Kathie, our leader, religiously monitors the FarmChicks website all year long in order to secure early entrance tickets.This was my fifth year attending and  Kathie's seventh year.  My sister, Julie, and friend, Gayle, joined us again this year, but we make them drive their own mom van there because we need as much cargo space as we can get for our precious purchases. This year those purchases included a giant red "S", a small vintage door, a mantel, a huge old chalkboard, wire baskets, old white columns, an old metal dental tool box, an old dictionary of antonym and synonyms, old college pennants, bed springs……
As is our tradition, we stayed at the Davenport Hotel and ate at Chaps Restaurant on Friday night.  Saturday after the show we tried a new place for lunch & found a new favorite – The Elk Public House.  We had a toothsome dinner conveniently across from the hotel at Moxie, which unfortunately recently closed. We went to our favorite boutiques, Tangerine, Serendipity, and Lulu. Our greatest find and newest favorite store, though, is Pink Salvage Gallery. Let's just say that Kathie and I spent too much money here and leave it at that.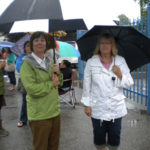 So about the muffins….we had this great idea that we would serve all of our hundreds of farm chick friends waiting in line with us a little breakfast so they wouldn't be so jealous of our position at the head of the line. Before we left for Spokane, Kathie and I baked up hundreds, yes hundreds, of little mini muffins. She covered blueberry, apple cinnamon and poppyseed. I was in charge of lemon coconut muffins and pancakes and syrup cupcakes. We had silver trays for serving the muffins and orange juice. It was a really great idea………but, we didn't count on the torrential down pour! The torrential downpour made serving a little difficult – we did what we could.  Needless to say, our kids will be eating muffins for months. We'll try again next year.
I have to tell you about this lemon coconut cake recipe. I made mini muffins out of it for Farm Chicks, but usually it is a bundt cake. The best bundt cake you will ever taste in your entire life, if I do say so myself. Dense, chewy, lemony, coconutty goodness. Yes, I just might consider selling one of my children for a piece of it – it is that good. I have been making it since the original recipe appeared in the August, 1999 Bon Apepit  magazine , coming from Gillan Estate Winery in New Zealand. The recipe calls for serving it with roasted apricots. I skip this and make a glaze of lemon juice, greated lemon rind and powdered sugar to pretty it up.
Pancakes and syrup cupcakes are just a little invention of mine. I love pancakes and syrup, but it really wasn't feasible to serve them to the farm chicks crowd, so I came up with the next best thing – pancakes and syrup cupcakes!
Lemon Coconut Bundt Cake
adapted from Gillan Estate, August, 1999 Bon Appetit magazine
Ingredients:
1 1/4 cup

canned cream of coconut (such as Coco Lopez)

1 cup

sweetened flaked coconut

2/3 cup

plain yogury (I use the greek kind)

2/3 cup

canola oil

1/2 cup

fresh lemon juice

1 T.

grated lemon peel

4 cups

flour

2 1/2 cups

sugar

2 T.

baking powder

*******

**********

16

apricots, halved and pitted

2/3 cup

packed dark brown sugar

1/4 cup

water

3 T.

sliced almonds
Cooking Directions:
Whisk together the cream of coconut, coconut, yogurt, oil, lemon juice and peel in a large bowl.
Mix together flour, sugar and baking powder.
Add flour mixture to coconut mixture one cup at a time. Batter will be very thick.
Bake about 1 hour and 20 minutes at 350 degrees in a buttered and floured 12 cup bundt pan or until a tooth pick inserted comes out clean. For mini muffins, bake 10-12 minutes at 350 degrees, for standard cupcakes bake 20-22 minutes at 350 degees – use that tooth pick!
Cool in pan 15 minutes and then turn out onto cake rack and cool completely.
At this point (while cake is still warm) I just make a glaze of the juice of a couple of lemons, powdered sugar and some grated lemon peel and pour it over. If you want to get fancier you can serve the cake with whipped cream and the roasted apricots.
Roasted apricots – Toss the apricots, brown sugar, water and almonds in a 13×9 glass baking dish and bake at 400 degrees until sugar melts – about twenty minutes, stirring occasionally.
Pancakes and Syrup Cupcakes
Ingredients:
***********Buttermilk

Cake****************

2 1/3 cup

flour

1 1/2 t.

baking powder

1/2 t.

baking soda

1/4 t.

salt

3/4 cup (1 1 /2 sticks)

butter

1 1/3 cup

sugar

3 large

eggs

1 t.

vanilla

1 cup

buttermilk

**********maple

syrup frosting********

4 cups

powdered sugar

3 T.

butter, softened

1/2 t.

salt

1 t.

vanilla

1 cup

pure maple syrup
Cooking Directions:
Mix together flour, baking powder, soda and salt.
Beat butter until creamy. Gradually beat in sugar until light and fluffy – about 3 to 5 minutes.
Whisk together eggs and vanilla and then beat them into the butter mixture.
Beating at low speed, alternate between adding the flour mixture and the buttermilk to the butter mixture in 3 parts. Beat until smooth and creamy.
For cupcakes, bake at 350 for 18-20 minutes. For mini-cupcakes, bake at 350 for 8-10 minutes.
Frosting:
Beat together all of the ingredients except the syrup and then beat in the syrup.