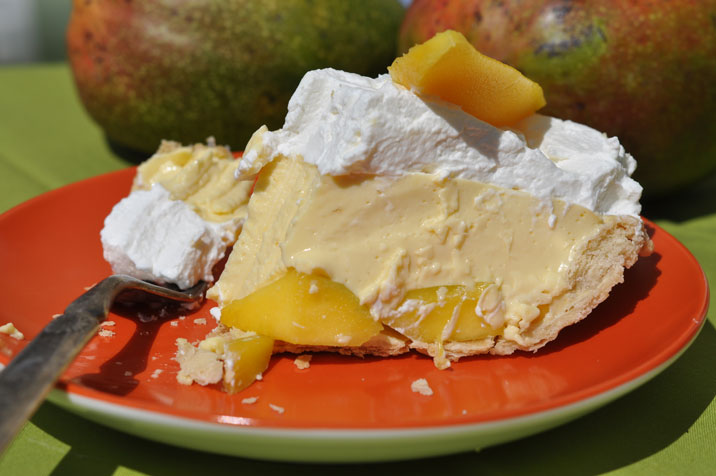 Since, I am still loving the mangoes, the interesting greek diner banana cream pie inspired me to come up with a mango version. Like the banana cream, this pie is extremely creamy. This is not a heavy pie, but it is not light either. I like lime with mango, so I put a little lime juice in the whipped topping, but this is purely optional. This is a very interesting pie and if you like mangoes, I think you'll like it.
Mango Cream Pie
by Architect Mom!
Ingredients:
1

pre-baked pie shell (homemade crust, of course)

3 cups

heavy whipping cream

2 cups

mango concentrate (like jumex)

2 envelopes

unflavored gelatin

1/4 to 1/2 cup

sugar

2

eggs, lightly beaten

2-4

ripe mangoes, peeled and sliced into chunks

2 cups

heavy whipping cream

1

lime, juiced (optional, but I love lime with mango)

1/4 cup

powdered sugar
Cooking Directions:
Stir together the whipping cream and sugar. In another larger bowl, warm up 1 cup of the mango concentrate and sprinkle gelatin over it while continously whisking to dissolve it. Whisk in the rest of mango juice, heavy cream mixture and eggs.
Spread mango on the bottom of the pie crust. Pour the cream mixture over.
Make the topping by whipping the 2 cups of heavy cream with the lime juice and powdered sugar until stiff. Spoon over the pie.
Refrigerate until firm, at least 4 hours.