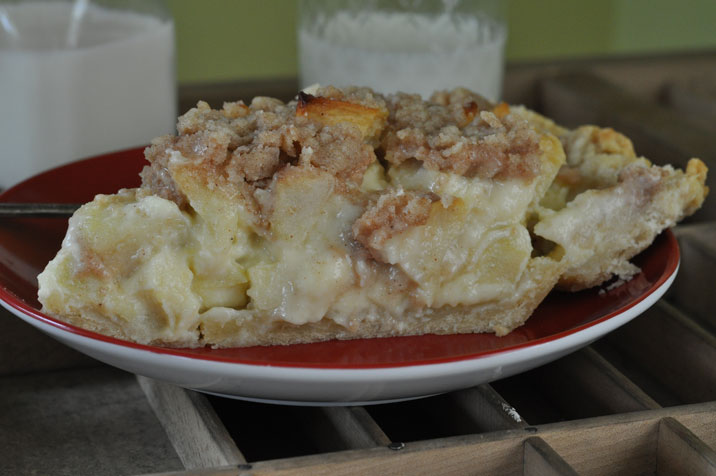 Fall is definately in full swing, the days are shorter, the mornings colder, the red dogwood branches are bare and glowing and life still is not slowing down in the Wilson household. This week we have the end of season soccer party for Coco and end of season tennis banquet for Mr. D ( of course on the same night), voting, Mr. SHS contest for Mr. D, fencing in Seattle for Coco, snowing in Boston, so Miss G. needs snow boots…..the list goes on. I am making progress in organizing the junk"craft" room, but in the meantime the kitchen is awry with the tennis banquet centerpieces I am concocting. I definately need an Alice.
Fall is also the perfect season for apple pie and sour cream apple pie is a new one I recently tried out. Sour cream apple pie,  along with apple cranberry crumble pie, now tops my list of favorite apple pies (so far!). It is supremely tasty and a good one to try out for the holidays!
Sour Cream Apple Pie
Ingredients:
1 unbaked

pie shell

1 cup

sugar

1 1/2 T.

flour

1 cup

sour cream

1

egg, well beaten

1 t.

vanilla

1/8 t.

salt

5-6

apples, peeled and chopped

***topping

*****

1/3 cup

sugar

1/3 cup

flour

1/3 cup

soft butter

1 t.

cinnamon
Cooking Directions:
Mix together sugar, flour, sour cream, egg, vanilla and salt, beating until smooth. Stir in apples and pour into pie shell.
Bake at 450 degrees for 15 minutes. Reduce oven to 325 and bake for 30 minutes longer. Take out of the oven to put topping on.
Mix together topping ingredients and spread over pie and then bake at 325 for 20 more minutes or until really bubbly.
Enjoy!