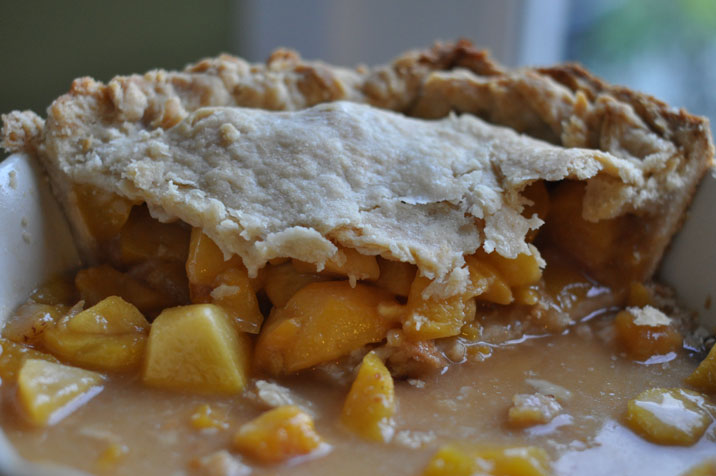 This pie was the winner of the evening at last week's party. It is adaped from a recipe by pasty chef Shae Rehmel of the Five & Ten Restaurant that I found in Southern Living Magazine (July 2011).  They made it with a pate brisee, but I made it using Paige's pie crust.  One smart thing the original recipe called for is preheating a baking sheet to place the pie on in the oven.  Unfortunately, I always forget this step and the bottom of my oven gets covered in pie juice, and my oven smokes and tries to catch on fire with the next thing I bake, and then I try to scrape it off and it's an utter disaster……Don't do what I do, but do make this sassy peach pie that is so, so, good – try it yourself while the peaches are still in season.
Brown Sugar Cinnamon Peach Pie
Ingredients:
1 recipe

double crust pie pastry

8 large

peaches (about 4 pounds), peeled and sliced into 1/2 inch chunks

2/3 cup

brown sugar

1/3 cup

sugar

1 t.

cinnamon

1/8 t.

salt

2 T.

butter, cut into little pieces

1/4 cup

flour
Cooking Directions:
Roll out one half of pie dough ( about 1/4 inch thick)and press into a pie pan. Roll out other half to save for the top.
Mix together sugars, cinnamon, flour and salt. Add peaches, mix and immediately put peach mixture into pie crust. Dot with butter. Cover with remaining pie crust and vent.
Bake on preheated baking sheet at 425 degrees for 15 minutes. Reduce to 375 and bake for 40 minutes more. Then cover loosely with foil and bake 25 minutes more until juices are thick and bubbly (and hopefully, not spilling all over the bottom of your oven!).
Cool for 2 hours before serving.